How to Spend 3 Days in Alberobello and Locorotondo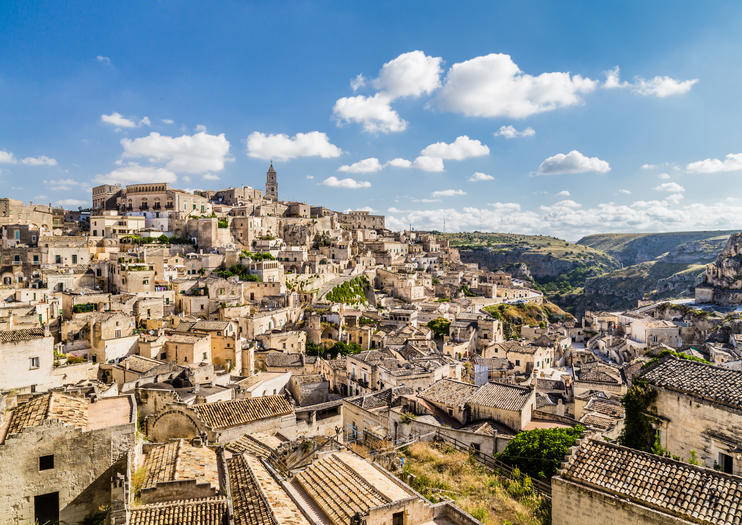 With three days in Alberobello and Locorotondo, you'll have enough time to delve into Puglia's highlights and even cross the border into neighboring Basilicata. From the central Itria Valley, head north to Bari, south to Lecce, and west to the ancient rupestrian city of Matera. Here are your options for three days of exploration.
Day 1: The Heart of Puglia
Begin your day in Alberobello, a UNESCO World Heritage Site that's home to more than 1,000 round stone trulli cottages, unique to this valley. Then move on to Locorotondo, a hushed, whitewashed town with sweeping views over the surrounding valley. Opt for a walking tour through the historic center or a bike tour that takes in both the village and countryside. If you still have time, visit quieter valley locations such as the fishing village of Polignano a Mare or medieval Conversano. History enthusiasts can choose a guided visit of Castel del Monte or the Gnatia archaeological ruins, while a wine tasting, olive oil tour, or visit to the salami-producing town of Martina Franca will satisfy gourmands.
Day 2: Cities North and South
The Itria Valley is also home to two of Puglia's most vibrant cities: Bari to the north and Lecce to the south. Join a walking tour to explore Bari's old town, Bari Vecchia, thick with pretty churches, bustling squares, and a warren of backstreets. Alternatively, set your sights on the Salento Peninsula, and spend the day admiring the ornate baroque architecture in the center of Lecce. Known as the "Florence of the South" for its elegance and cultural riches, this city is best-visited with a guide to fully appreciate its intricately decorated monuments. 
Day 3: Matera, the Cave City
Perched on the slope of a ravine in the neighboring region of Basilicata, Matera is one of the most significant and famous destinations in southern Italy. This unique city, a UNESCO World Heritage Site and European Capital of Culture, has developed above a network of hundreds of ancient caves and grottoes, used as homes and churches over a millennia. Many of the historic cave dwellings, known as sassi, have been renovated into luxury hotels, gourmet restaurants, and trendy art galleries. Spend your last day on a guided day trip to take a deep dive into the history and evolution of this singular hill town, and visit its historic caves, baroque churches, and narrow lanes joined by steep staircases.
Read More
Show Less
Taste your way around town with this street food tour of Bari, and learn about the city's signature treats from a private guide. Starting with a walk around Bari's Old Town, the tour introduces you to standout sights such as the Basilica of St. Nicholas and its sacred crypt. Continue to explore the cobblestoned enclave, trying fresh burrata cheese, focaccia, salumi, panzerotti, and home-made gelato. Finally, you'll finish with a visit to the city's French neighborhood where a large fish market is held.
Face masks required for travelers in public areas
Face masks required for guides in public areas
Face masks provided for travelers
Taking safety measures
---
Explore the lovely Sasso Caveoso district in the city of Matera on a 2-hour tour walking tour with a knowledgeable local guide. Visit one cave, one church and the historical center, hearing about the fascinating history and subterranean architecture of the city. See parts of the famous Sassi of Matera, ancient cave dwellings that are still in use today and have been designated a UNESCO World Heritage Site.
Social distancing enforced throughout experience
Taking safety measures
---
Introduce yourself to the wonders of Lecce with an expert guide and a private walking tour. See the piazzas, palaces and churches of this beautiful Baroque city with your guide during a 4-hour walk. Choose from a morning or afternoon tour to visit the Basilica di Santa Croce, the ancient Roman amphitheater and the Piazza del Duomo as you explore the so-called 'Florence of the South.'
Price varies by group size
Price varies by group size
---
The town of Alberobello is home to one of the most important monuments of southern Italy. This city of has earned UNESCO World Heritage status thanks to its traditional triangular trulli houses, narrow streets, and ancient church of St. Anthony. This walking tour leads you through the town's major sites with the help of a local guide.
---
Let a guide navigate through the Itria Valley for you on a day trip that departs from Lecce. Sit back and enjoy the sweeping countryside views as you follow your guide to small villages often missed by visitors, including Alberobello and Ostuni. After stopping at local craft markets, historic churches, and the iconic cone-shaped Trulli structures, return to the doorstep of your Lecce accommodation.
---
The Castel del Monte, a 13th-century castle known for its octagonal shape and its eight towers, is one of the most important medieval landmarks in southern Italy. On this private tour of the castle, you'll admire its exterior, discover its interior (entry own expense), and learn all about its colorful history from your guide. Pick your own departure time to suit your schedule, and get up close and personal with the UNESCO-listed site.
---
Avoid the hassle of planning and navigating on your own when you book a walking tour through the seaside town of Polignano a Mare. As you make your way to the city's highlights, your guide provides insight into local customs and points out hidden gems often passed over by visitors. Flexible departure times are available to fit any traveler's schedule.
---
With a history dating back from the Bronze Age to the Messapian era and the Roman conquest, the ruins of Gnatia rank among the most significant in Puglia—but exploring without a guide means missing out on the hidden secrets. On this tour, make the most of your visit with the services of a private guide and learn the stories behind landmarks including the criptoportico, the Via Traiana, and the Roman basilica.
---
The "Capocollo of Martina Franca" is a cold cut salami, namely a type of capocollo, obtained from meat of pigs that were born in big farms situated mainly in the area of the Valle d´Itria. It has been cited in some historical references, as a proof of the fact that it is a traditionally typical sausage of the region. In fact, already in the XVIII century it was well known, not only in Apulia but also in all the Kingdom of Naples, as the most representative product among the charcuterie of this territory. The whole piece of "Capocollo of Martina Franca" is beautifully wrapped in its original gut and a string is tied on top of it to hang it for the traditional seasoning.
---
With fertile soils and ancient groves basking in the warm summer sunshine, Italy offers the perfect climate for olives to thrive. On this olive oil-making experience, delve into one of Italy's most culturally significant culinary industries—with round-trip travel from Alberobello or Brindisi included. Harvest olives by hand from the trees, sample local wine during a picnic lunch in the Itria Valley countryside, and experience the best of life in rural Italy.
---
See Puglia's Locorotondo on a walking tour, and discover the highlights of one of Italy's most pretty villages. Loved for its whitewashed and cone-roofed trulli houses, hilltop Locorotondo is a maze of lanes, and the best way to see it is with a private guide. You'll enjoy a tour that's personalized to you, and have the flexibility to see the sights that interest you most.
---
Discover the highlights of Puglia's Itria Valley region (famous for its rugged landscape and conical trulli houses) and travel like a true Italian on this half-day vespa tour. Meet your guide at your area accommodation, and set off to three of Puglia's most scenic hill towns: Locorotondo, Martina Franca, and Ostuni. Admire the sights, learn more about the area's history, and stop for a traditional snack at a family-run farm.
---
Bypass the crowds of tourists, and venture to one of Puglia's most evocative destinations, on this private walking tour of Conversano. Located less than an hour by car from Bari, the ancient town offers a glimpse into Puglia's millennia of history. Meet your guide at a convenient starting point, and set off. You'll see Conversano's medieval castle, will visit its Romanesque cathedral, will admire the Monastery of San Benedetto, and more.
---
---