Tomb of the Unknown Soldier (Mnemeíon Agnostou Stratiotou) Tours and Activities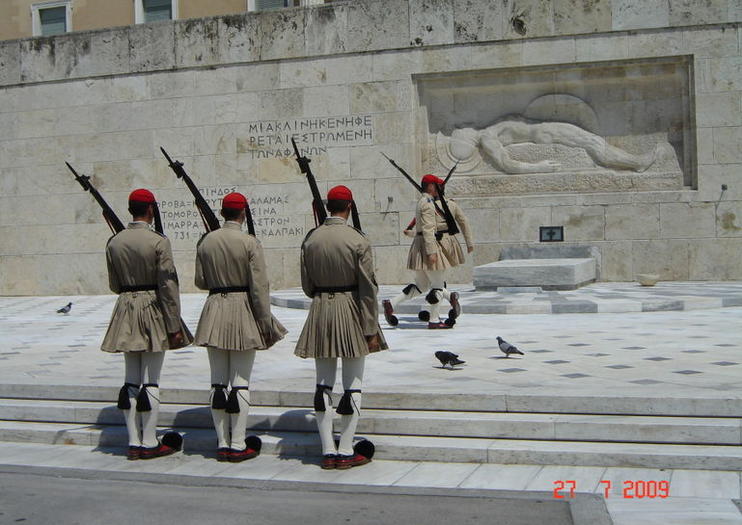 Athens' Tomb of the Unknown Soldier (Mnēmeíon Agnōstou Stratiōtou)
commemorates all Greek soldiers who died in service of their country over its long history. The biggest draw is the weekly Changing of the Guard ceremony, which involves much pomp and live music. During major holidays, politicians and officials lay wreaths at the tomb.
The Basics
Situated in front of the Royal Palace, this cenotaph built in the 1930s has a number of features associated with Ancient Greece. Look for traditional design elements (mixed with art deco styling) along with inscriptions from Thucydides' History of the Peloponnesian War, as well as a sculpture of a soldier wearing a Greek helmet. Many city tours stop here, and visiting with a guide can be particularly useful if you want help reading the Greek inscriptions.
Things to Know Before You Go
The Tomb of the Unknown Soldier is a must-visit for those interested in military history.
Try to plan your visit to align with Sunday's grand Changing of the Guard ceremony.
The square and tomb area are wheelchair-accessible.
How to Get There
The Tomb of the Unknown Soldier is situated in Syntagma Square, a major transport hub that's well-connected by bus, tram, and metro. Lines 2 and 3 of the Athens Metro and lines 4 (Aristotle) and 5 (Plato) of the Athens Tram stop here.

When to Get There
The tomb is guarded by the Presidential Guards, known as Evzones, day and night.
The grand Changing of the Guard ceremony, complete with an army band and formal uniforms featuring a skirt, stockings, and shoe pom-poms, takes place every Sunday at 11am. Monday through Saturday you can see the guard change every hour, but without the music and the splendid uniforms. 
Tombs of Unknown Soldiers
The tradition of commemorating an unknown soldier (and, by proxy, the service of all soldiers) became popular around the world after World War II. Early examples include La tombe du soldat inconnu at the Arc de Triomphe, the Tomb of the Unknown Warrior at Westminster Abbey, and the Tomb of the Unknowns in Arlington, Virginia.
Address:
Leoforos Vasilisis Amalias 133, Athens 105 57, Greece
Read More
Show Less
87 Tours and Activities to Experience Tomb of the Unknown Soldier (Mnemeíon Agnostou Stratiotou)