Gulf of Cagliari (Golfo di Cagliari) Tours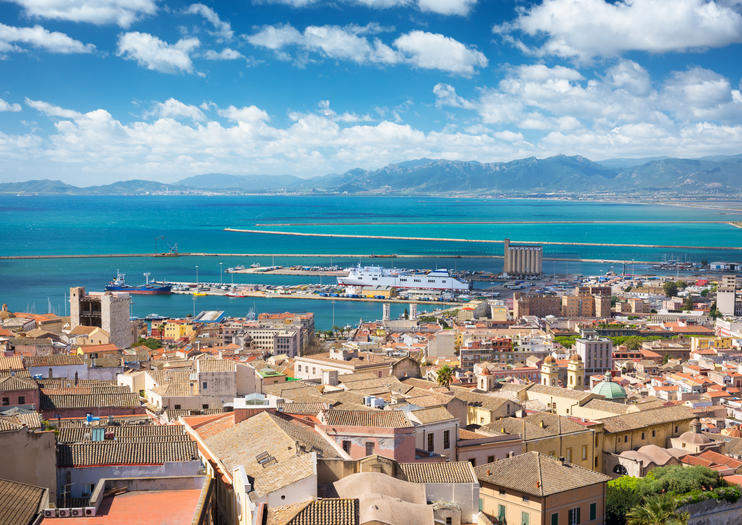 The capital of Sardinia, Cagliari, sits on the island's southern coast in the middle of the large bay created by the Gulf of Cagliari (Golfo di Cagliari) - also known as the Golfo degli Angeli, or Gulf of Angels.
The gulf is often busy with ships and ferries - Cagliari is an important port city - but it's also a recreation hub. Many of the beaches surrounding the gulf are beautiful sandy beaches next to clear water. Sardinia is a haven for outdoor sports, including horseback riding, hiking, and a multitude of water sports.
One of the most recognizable features of the Gulf of Cagliari is the St. Elia Promontory in the middle of the bay near the city of Cagliari itself. It's known as the Devil's Saddle for its distinctive carved-out shape, and it's a popular hiking location. There are some ancient ruins on the promontory, too, including the remains of a huge Punic water tank and Roman cistern.
Other historic sites ring the gulf, including the ancient Roman and pre-Roman ruins at Nora on the western end of the gulf. The ancient theater at the archaeological site is still in use for performances during the summer.
Practical Info
Poetto Beach on one side of the St. Elia Promontory is one of the most popular in Cagliari, and also has a bustling nightlife during the summer months. Visitors can go to dance parties or even sing karaoke on the beach.
Address:
Gulf of Cagliari, Cagliari, Sardinia, Italy
Read More
Show Less
0 Tours and Activities to Experience Gulf of Cagliari (Golfo di Cagliari)
---