Vandenberg Wreck Tours and Activities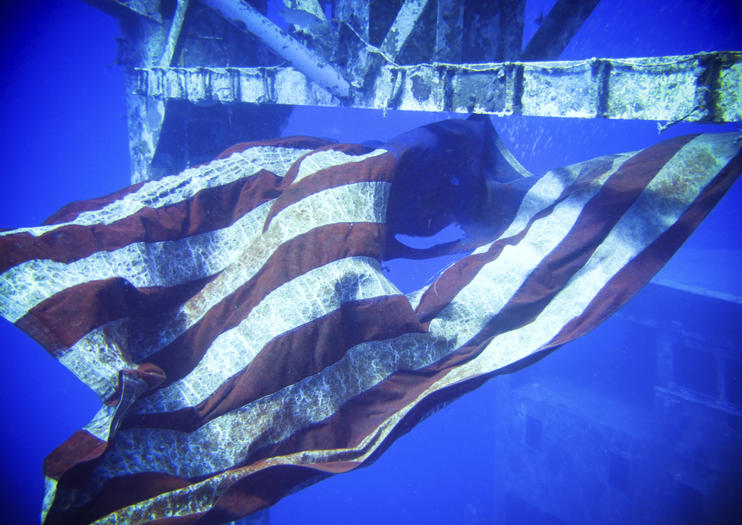 The newest attraction on the Florida Keys' wreck diving trail, the Vandenberg was sunk off the coast of Key West in 2009 and rests in 140 – 150 feet (42.6 – 45.7 meters) of water. Originally christened the USS General Harry Taylor, this 522-foot vessel originally served as a transport ship in World War II. The US Air Force acquired the vessel as a missile range instrumentation ship in the 1960s and named it the USAFS General Hoyt S Vandenberg. The ship was reacquired by the US Navy and later retired in 1983. The Vandenberg is one of the largest ships ever purposefully sunk as an artificial reef and is considered one of the best wreck dives in the United States.
Fun Fact: the Vandenberg had a brief moment of cinematic fame playing a Russian science ship in the 1999 movie Virus. Some of the Cyrillic lettering that was added for the movie is still visible on the ship.
The wreck is fairly accessible for beginner and advanced divers; there are a large variety of divable structures between 40 and 140 feet in depth to explore including the navigation bridge deck, radar deck, two satellite dishes and most of the superstructure. As the years pass, a diverse group of ocean life is making a home on the wreck including schools of barracuda, Goliath grouper and a wide variety of coral. However, diving conditions in the Florida Keys can be highly variable. Elements such as current and visibility can play a part in helping or hindering a diving experience. 
Practical Info
The Vandenberg is diveable year-round, but the water temperatures and conditions are most favorable in September and October. While beginner divers can get an overhead view of most of the structure, having an advanced open water certification is recommended to have the best experience. It is strongly recommended that divers interested in visiting the Vandenberg sign up with a certified dive shop for the safest possible visit. 
Address:
Key West, Florida, USA
Read More
Show Less
0 Tours and Activities to Experience Vandenberg Wreck
---