Game of Thrones Tours in Malta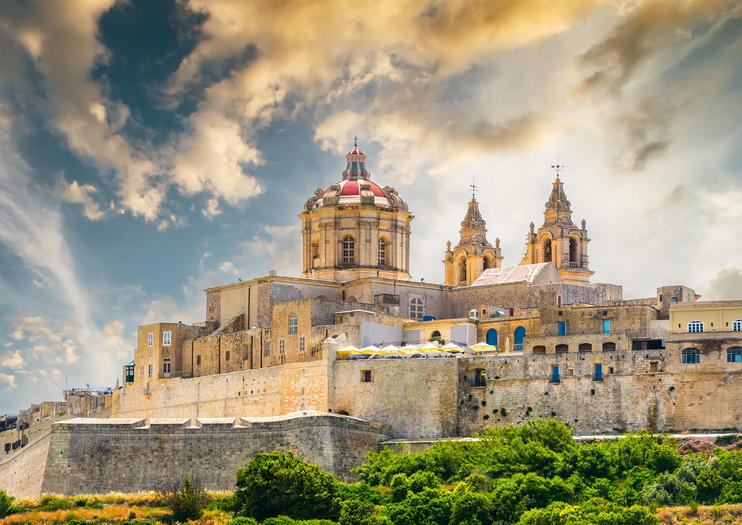 Featured in the hit HBO series Game of Thrones, Malta's ancient architecture, fortresses, and rocky coastal scenery make up the perfect King's Landing in this fantasy show. Here are a few Malta highlights you can expect to see on a GoT-themed tour.
Mdina
Once the capital of the island of Malta during the medieval era, the walled city of Mdina retains a charming atmosphere featured as King's Landing locations such as the yard of armorer Tobho Mott, the Baelish Brothel, King's Gate, Coppersmith's Wynd, and Cobbler's Square. Thrones fans Discuss Ned Stark, Daenerys, and Westeros with their tour guide.
Birgu
Filming brought the show to Birgu for an area used as the Red Keep's skull chamber, known as the final resting place of the mythical dragons that once guarded the Targaryen family. Visit on a Thrones tour from Valletta.
Gżira

The Great Sept of Baelor is the center of all religious worship in King's Landing, the capital of the Seven Kingdoms, and scenes recreating this key religious site were partially filmed inside Gżira's Fort Manoel, an imposing 18th-century defensive structure.
Read More
Show Less
Malta Tours & Activities (2)
Day Trips
Discover the Lands of Ice and Fire on this full-day tour of Malta's 'Game of Thrones' filming locations. On this tour, which was designed and is led by two actors who appeared on the HBO TV series, get up close to the ancient forts, parkland, and streets that set the scene for the Red Keep and King's Landing—among other top sites—in season one and two of the series. You also hear behind-the-scenes trivia about the series as you explore Mdina, Rabat, and other countryside locations.
---
Half-day Tours
Indulge yourself in all things 'Game of Thrones' in Malta on this guided tour. Follow around your guide, an actor who was on the show, as they lead your group to all the filming locations around the island. Make your way from location to location in a luxurious sedan or SUV. Learn about the key characters and even some gossip about the show. Tour is private for groups of four; smaller groups may share with up to three other guests.
---
---