Fort Saint-Jean Tours and Activities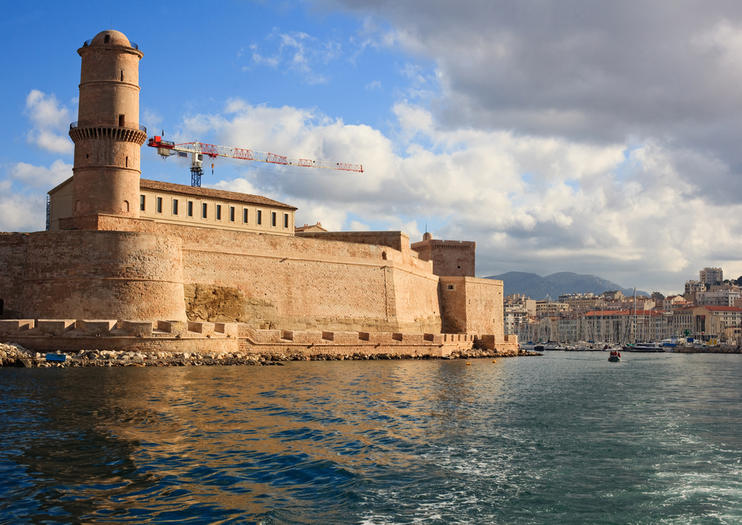 Fort Saint-Jean is a historic but highly quirky fortification in the Old-Port of Marseilles commissioned by none other than Louis XIV in 1660—but not for obvious reasons. He had the fort built for defensive purposes, of course, but also because he wanted to please his Marseilles people, noticing that inhabitants were extremely fond of nice fortresses but were also wary of their governor; the two new forts were built in response to a local uprising rather than for the defense of the city - their cannons pointed inwards towards the town, not outwards towards the sea. The name of Saint-Jean comes from the site on which the fort is built, which was previously occupied by the Order of the Knights of Saint John.
The fort was later used for military purposes on several occasions, as it was in the possession of the French army for the better part of the 19th and 20th centuries; it was utilized as barracks and clearing station for the Army of Africa during the 1830s and was occupied by the German military in November 1942. But in the wake of the liberation of Marseilles in August 1944, much of the fort and its historic battlements and buildings were destroyed by the explosion of a munitions depot. Today Fort Saint-Jean is an exhibition space for permanent collections operated by MUCEM, the Musée des civilisations de l'Europe et de la Méditérannée.
Practical Info
Fort Saint-Jean is located on Promenade Louis Brauquier in the Old-Port of Marseilles. It can be reached on foot from Quai du Port and from Quai de la Tourette, and also by car with ample parking across Hôtel de Ville on Place Jules Verne (€6 for three hours, €7 for evenings between 7PM and 2AM or €17 for 24 hours). The closest tram station is Sadi Carnot and the closest metro station is Vieux-Port / Hôtel de Ville; both are located 10 minutes east of the fort. 
Address:
Prom. Louis Brauquier, Mareseille, France
Read More
Show Less
0 Tours and Activities to Experience Fort Saint-Jean
---