ISKCON Temple of Mumbai Tours and Activities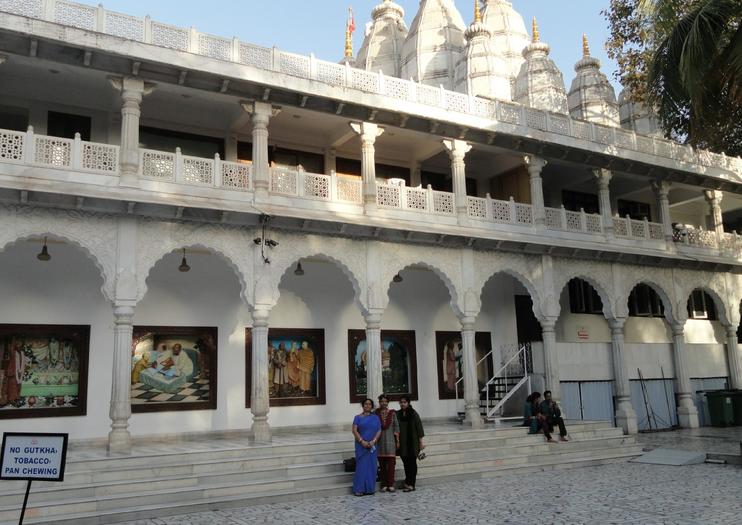 Spread out over 4 acres (1.6 hectares), the ISKCON Temple of Mumbai is an excellent spot for visitors to learn more about Hindu traditions, and those who wish can take part in chanting and classes. The temple's interior is adorned with spiritually oriented artwork and religious statuary, and the grounds include a large restaurant and guest house. 
The Basics
This temple was established in the late 1970s by Swami Prabhupada, the founder of the International Society for Krishna Consciousness (ISKCON), as part of his efforts to teach the public about devotional practices and Krishna consciousness. Today it's largely used by devotees for prayers, chanting, and meditation, and though it's a bit off the beaten path (i.e., few tours come here), it's worth visiting for those with an interest in India's spiritual side.
Things to Know Before You Go
The temple is a great place to visit for those interested in learning about Hinduism.
Dress conservatively and be prepared to take off your shoes before entering.
Photography is prohibited in parts of the temple, so look for signage and when in doubt, ask.
How to Get There
The ISKCON Temple of Mumbai is located inland from Juhu Beach, just north of the airport. It's easy to access by taxi, and both the Ville Parle and Andheri West railway stations are relatively close by (though walking to either takes around half an hour, so it's usually better to take an auto rickshaw to the station, especially on a hot day).
When to Get There
The temple is open daily from 4:30am to 1pm and again from 4:30pm to 9pm. Those interested in learning more about ISKCON teachings may want to come for one of the discourses, held at 8am and 7:30pm daily. While the ISKCON Temple is a year-round destination, it's at its most lively during annual Hindu festivals, especially Krishna Janmashtami, the birthday of Lord Krishna, in August or September.
Krishna Consciousness 
While the ISKCON Temple shares much in common with other Hindu temples, you're likely to see more foreign faces here than you might in other temples in the area. In fact, ISKCON actually started in the US (the organization's adherents are often called "Hare Krishnas") and has branches and devotees all over the world.
Address:
Juhu Church Road, Mumbai, India
Read More
Show Less
0 Tours and Activities to Experience ISKCON Temple of Mumbai
---